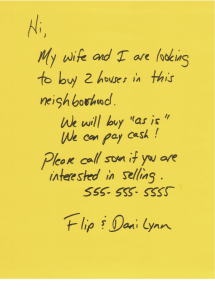 When we first got started in real estate investing, we were starving for the knowledge to learn all the effective real estate investing marketing tips we could.
So, in addition to our own testing, we networked like crazy with other investors and it paid us huge rewards in learning what to do and sometimes more importantly, what NOT to do!!
I love "giving back" to the real estate community, so we can all grow and succeed together, so as one of my first posts I wanted to share with you the BEST secret we learned so that you can start implementing it in your business immediately to get more leads!!
Let's get started with the basics:
How To Create A Hand Written Letter
Get a white piece of paper and black sharpie marker.
Write your marketing message. (example:    Hi,   My wife and I are looking to buy 2 houses in this neighborhood….)
Take this master copy and copy it on yellow sheets of paper and make sure none of the words are cut off because you wrote too close to the edge of the page.  If any words are cut off, trying writing the message again.
Make copies!  You can do this yourself or have a printer do it.
Deliver your marketing piece.  You can use these in your direct mail or as door flyers like we do.
If you're a visual person like I am, here's an example of my master copy and what I copy them on when we use these as door flyers.  You'll notice that I don't write the letter "perfectly" because I don't want it to look like it was a computer generated handwritten font.   If you try this, you'll be amazed how the copy looks just as good as the original handwritten letter – people won't know the difference!!
I hope you try this for yourself…one of my coaching students went from getting 3 leads from 1000 flyers to 18 leads from 1000 flyers!!
Now, it's time to take action and get that phone ringing like crazy!  Go get some deals!!!
I'd love to hear what you think, especially if you've tested this out!!
(P.S.  If you like what we're sharing with you, feel free to comment below and share the knowledge with others by sharing it on facebook or twitter!  We appreciate your support!!)

Related Articles to Marketing Tips
Online Marketing For Investors
Writing Offline Ads to Attract Your Target Market
How We Get Massive Seller Leads For Real Estate Deals