Risk In Wholesaling Properties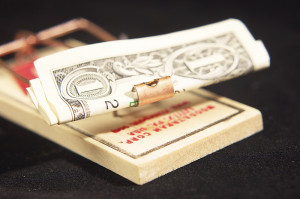 Wholesaling properties has become a very popular method with real estate investors. Wholesaling real estate involves purchasing properties below market value and selling your contract for profit.
The Difference Between Wholesaling & Rehabbing
Wholesaling Properties is a great way to start doing real estate deals because it doesn't require much of an investment!
As a wholesaler you don't "own" or change the property – vs. – The Rehabber who "owns" the house and often make drastic changes to the property.
Wholesaling is just one piece of the puzzle in the real estate world but it can be a very profitable one!  As an investor who decides that you would like to wholesale houses you will focus on finding houses for investors.  The types of houses you'll be finding will vary on the investor you're selling them to.
Some investors want short sale flips, some want rehabs, some want subject-to deals.  All of these investors are taking a lot of risk and spending a lot of time and energy to make a profit from their investment. If you the investor decide to focus on doing wholesale deals, you will be in a role where it's relatively risk-free because you're just playing the middle man. However it is important to remember that with any type of investing there is always going to be some type of risk.
Almost anyone can become a wholesaler because, as mentioned before, you don't have to make a large investment when it comes to purchasing the house. However, you will have to invest in your education if you want to become a great wholesaler.
Education & Mentoring Is Critical In Real Estate Investing!
To actually be successful as a wholesaler investor you will need to learn the art of wholesaling properties. This includes training on how to find and negotiate the right type of deals that will appeal to other investors who will be "buying the property" from you.
The secret to success in this investment niche is networking with other investors and real estate professionals.
You will also need to learn how to market yourself so other investors looking for properties will be able to find you.
A Match Made In Investor Heaven:  Investors who participate in wholesaling are matching up a property with another investor whose goal is to buy and fix the property and then later resell it for a profit.
Want to Build Passive Income Instead of Making Money On a Deal By Deal Basis?
If you'd like to learn more about building passive income by buying and selling real estate for a profit with no money down using strategies like subject-to and wrap around mortgages, then check out our very affordable REI Rockstars Back Stage Access Coaching Series for both new and seasoned investors!
If you prefer not to stay in the middle of transactions and simply want to sell your contracts for a quick fee, then you'll want to learn more about how to do mortgage assignments and wholesaling, and we teach that in our coaching series as well!  For under $100/mth, you'll learn Four (4) No Money Down Real Estate Investing Strategies so that you can better evaluate the deals you come across in order to make maximum profit!
Here is a short sample of what you will be doing as a wholesaler
1. You the wholesaler will be locating homeowners who are motivated to sell their property either for a discount or by leaving their loan in place. With the current economy and with the right training this can be a relatively easy task.
Many homeowners need to sell their home quickly because they are facing foreclosure or a short sale. Once you have the right education you will know how to talk with these motivated sellers and be able to give them a better alternative.
2. After locating sellers, you the wholesaler will need to negotiate the deal and place the property under contract.
3. Once you have the property under contract, you will work on finding another investor who wants to buy the property from you for a fee.
Investor Tip!
It's sad to say that there is a lot of bad information online coming from real estate investing so-called "gurus."  Take time to learn who is credible and who to avoid. Going to your local Real Estate Investor Associations or Clubs, or finding a REI forum on line will help you to know what to look for when it comes to finding quality people in the real estate investing world.
We've been investing since 2009 and coaching since 2010.  We still do deals as our primary income source…the coaching we do on the side not only for a profit (we are business people and have to get paid for our time) but also for personal fulfillment in our ambition to help others.  Actions speak louder then words and for that reason, we let our students speak for us based on their experiences!

Related Articles to Wholesaling Real Estate
Wholesaling Properties Vs. Rehabbing
You Don't Have to Be A Wholesaling Ninja to Make A Living Part 1
You Don't Have to Be A Wholesaling Ninja to Make A Living Part 2
You Don't Have to Be A Negotiating Ninja to Make A Living Part 3