Did You Want Mayo On That?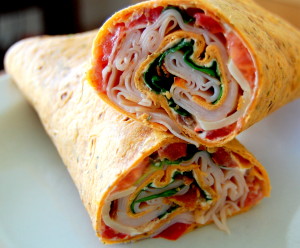 If you can wrap your mouth around this sandwich with seven different types of meat — bacon, turkey bacon, ham, turkey – you might also be one of those investors who can do wrap around mortgage deals.  (Did I just make you hungry?)  🙂
The wraparound mortgage is an outstanding and legally innovative method for investors and property owners to sell properties faster and for even more money than the current value. This is why the wrap around mortgage option is popular with motivated sellers.  A lot of motivated sellers are in trouble because they owe more on their loan than the current value of the home.  This becomes a problem when they can't pay their debt and they are forced to sell, but then discover they can't even sell the house for the price they owe!
Home owners who find themselves in this position not only will have to worry about paying the difference between the money owed and the money they get from the sale, but also fees that are included in selling the house. These fees may include closing costs, realtor commissions and other miscellaneous expenses.
Wrap Around Mortgage Case Study Example
For this scenario we will use the following characters:
Tim is the Investor

Sam is the seller

Bob is the buyer

Bank is Big Star Texas Bank (a made up name for this case study)
The home is a beautiful ranch in Texas. Sam has lived in the home for many years and has put a lot of work into it. However, he just got laid off from his job and is unable to make the payment. Sam would like to sell the house for $210,000 (which he feels is fair market value). He owes $200,000 on his mortgage to Big Star Texas Bank.
Sam knows that with only $10,000 in equity, he can't afford to list his home with a realtor so he puts an ad on Craigslist, and finds a For Sale By Owner sign and places it in the yard for drivers to spot as they drive by.
One day Tim the investor is driving by Sam's home and he writes down the number.  As soon as Tim gets gets back to his office, he gives Sam a call because he knows how important taking action is in the real estate investing business.
After some lengthy discussion about the property, Tim and Sam sat down to discuss an offer.
To start, Tim offered to pay the full asking price of $210,000 for the house which made Sam pretty excited because he is getting exactly what he wanted!
Of course this is not all profit for Sam, he still has to pay off the loan of $200,000 to the bank, but this was certainly better then other scenarios he had played in his head!
Next, Sam and Tim begin discussing the terms of this offer and they come to the following agreement.  Sam agrees to be the "bank" and leave his 200,000 financing in place for Tim to take over and Tim agrees to pay Sam $10,000 at closing.
The underlying loan is already 3 years old, so Tim only has 27 years left to pay on it and Sam had a 5% interest rate.
Now Tim starts marketing for an end-buyer and he gets a call from Bob who agrees to pay $250,000 for the property and he has $30,000 down and can afford to pay 7% interest.
This scenario allowed Sam the seller to be able to sell his property without bringing money to closing and he even made a little bit of profit out of the deal.
Tim was able to profit $20,000 on the down payment after he gave Sam the $10,000 he promised him.  Then, Tim has $20,000 in back end profit because the new loan he gave to Bob was for $220,000 (Tim sold the house to Bob for $250,000 and after subtracting the $30,000 down payment, this leaves a lien to Bob for $220,000) and his underlying commitment on the original lien is only $200,000.  and monthly cash flow between the underlying 5% loan and the new wrap around mortgage for 7% and the cherry on top is that Tim also has a shorter term on the underlying loan of 3 years which means that the final 3 years of the wrap around loan will be 100% profit.
Bob pays Tim each month and Tim pays Big Star Texas Bank. This new contract has a brand-new financial obligation through the "wrap around mortgage" of the seller's previous debt.
If you'd like to learn more about building passive income by buying and selling real estate for a profit with no money down using strategies like subject-to and wrap around mortgages, then check out our very affordable REI Rockstars Back Stage Access Coaching Series for both new and seasoned investors!
If you prefer not to stay in the middle of transactions and simply want to sell your contracts for a quick fee, then you'll want to learn more about how to do mortgage assignments and wholesaling, and we teach that in our coaching series as well!  For under $100/mth, you'll learn Four (4) No Money Down Real Estate Investing Strategies so that you can better evaluate the deals you come across in order to make maximum profit!

Articles Related to Wrap Around Mortgages
Mortgage Assignment Vs. Wrap Around Mortgage
One Wrap Around Mortgage Coming Up