Meet Dani & Flip
Dani Lynn…
Dani was born and raised in the Grand Canyon State with a strong belief that True Wealth is found in Friendship! After graduating high school, she began playing trumpet professionally and attended Southeastern University in Lakeland, Florida where she received her Bachelor's degree in Fine Arts. While in central Florida she pursued a musical career at Walt Disney World in Orlando. Shortly thereafter Carnival Cruise Lines recruited her as a professional musician and Musical Director on some of the largest cruise ships in the world.
Flip…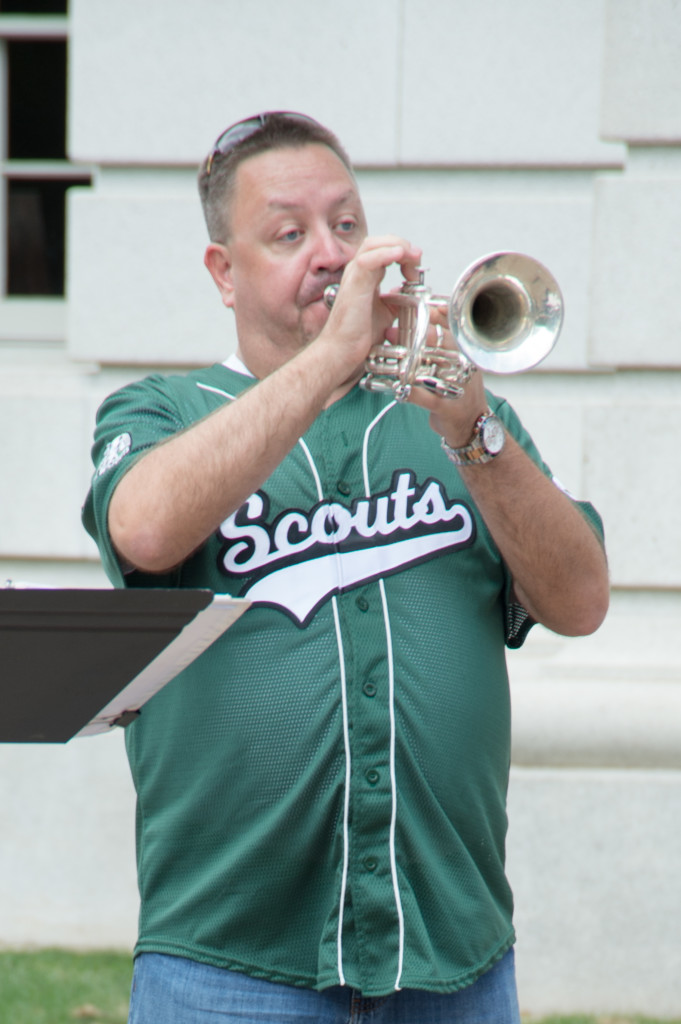 Flip was born in Ohio and raised in Michigan (he holds his hand up to point where he lived, ha). After he graduated from high school in 'The Thumb' of Michigan, he attended Michigan State University studying computer science and music performance. He played trumpet professionally all throughout the Midwest until he couldn't take anymore winters and he moved to Florida. While in Florida he pursued a musical career at Walt Disney World in Orlando. Shortly thereafter Carnival Cruise Lines recruited him as a professional musician and Musical Director on some of the largest cruise ships in the world. (Sounds familiar doesn't it?)
"Destiny"
While Dani was living in Florida, it seems that she created an unknown path of musical jobs, (or 'gigs'). As Destiny would have it, this path was unknowingly followed just ONE year later by Flip.
When she was a musician at Walt Disney World she was also attending college. During her last year she was recruited to cruise ships and her first ship was the 'Carnival Ecstasy'.
The year that she left to go to cruise ships, Flip auditioned for the same Walt Disney World musical group that she had just left…..and he made it! Some of the members were still there from the previous year so Flip was continuously asked "Do you know Dani?" He continuously replied that he did not know her but was curious about this 'Dani' girl.
After Flip's last year at Walt Disney World he was also recruited to play on cruise ships. In fact, guess which ship they sent him too? That's right, the same ship that was Dani's first ship, the Carnival Ecstasy. However, Dani was no longer on that ship as she had just left to go to another ship. When the band found out that Flip had played at Walt Disney World, they all said "Oh, well you must know Dani!" If Flip wasn't determined to meet her before this, he certainly was now!!
Next thing you know….God, nature, fate, *destiny*, whatever you want to call it, took over. In 1998 a hurricane altered both of our cruise ship itineraries and both of our ships happened to be re-routed to the port in Nassau, Bahamas. Flip's band still had to play a Cocktail Dance set despite the fact all the passengers were off enjoying the Bahamas! The entire band from Dani's ship decided that they would board Flip's ship to listen to them play. So Dani sat in the audience and enjoyed the music but little did she know that some of the guys in Flip's band were whispering to him, "Hey, that's Dani!" By now, he felt like he already knew her, yet she had no clue who he was!
Flip's band finished the set and Dani and her band left the ship and was heading down the pier to go to their favorite hang. As she was half way down the pier, she heard someone shouting her name. She turned around and didn't recognize anyone so she just kept walking. She then heard someone yell her name again, so she turned around and saw some guy waving his hands and saying to hold on and wait for him. She couldn't figure out what was going on, not to mention that this guy was wearing a tuxedo. As he approached, he said "You're Dani right, I can't believe I finally get to meet you in person!" He was so excited…. and she was thinking – What a weirdo, who is this guy!!
Flip went on to tell her the story about how he had been following right behind me for all these years. We laughed, shared stories and enjoyed each others company for the remaining time we had in port.
Not long after our first introduction, Flip was transferred to the same ship that Dani was on and that is where their friendship blossomed into the love they have for each other now. And to bring this story full circle, the name of the ship they were on where this all happened was the Destiny!! (Seriously! You can't make this stuff up!! ha!)
They went on to spend the better part of 16 years traveling the world together (in a really small cabin) and creating valuable friendships that will last a lifetime.
The Proposal
As they finished their final contract on ships, Flip proposed and they planned their wedding while going through the Panama Canal. They decided that their new residence would be in Round Rock, Texas, and they didn't have much time before their new jobs (on land) would start.
So They Had a Mission!
They found, bought, and moved into their very first home and got married all within a month! (Not advised….at all!) They still feel like young newlyweds, thrilled with all the experiences they've enjoyed and blessed that they found each other!  In 2014 they decided that Texas wasn't HOT enough in the summer so they moved to the desert.  "Out of the Pot and into the FIRE!" Haha.  Actually, they wanted to be closer to Dani's family to spend some time with them so they loaded up their fur babies and they were off to Arizona!
Enjoy!
Our Golden Retrievers, Sasha and Tucker
Our Olde English Bulldogge, Spartacus